The SPF was contacted earlier this year by Pete Gatenby with a kind offer to fund raise for the charity by taking part in the Lisbon Rock n Roll Marathon on Sunday 2nd October 2016. Congratulations to lads and thank you for your fantastic support.
Pete is a member of the team who are ex or current Lancaster University Rugby League players, all of whom have close ties to the SPF itself or the causes it support.
Pete takes up the story.
'We have done events in the past that have been on a much smaller scale, and in support of other charities or fund raising for the current team, but with the prospect of a marathon (or half marathon for some of the less ambitious) we wanted to do it for a cause that would unite us all in our quest. SPF was the perfect choice.'
'We opted for Lisbon, in a very roundabout kind of way really. We had a number of influencing factors, firstly close enough that it would capture the short attention span of the prospective team, but far enough away that we could reasonably train for it. Secondly, it a coastal run, and therefore flatter then some others! Thirdly, it's easier to get into then the London marathon!'
When asked how the training is going Pete says, 'Training is.... well.... questionable! Especially from my side... but hey what's 26 miles between friends??  Fundraising has gone better however, and we're over the £1000 mark now which is great!'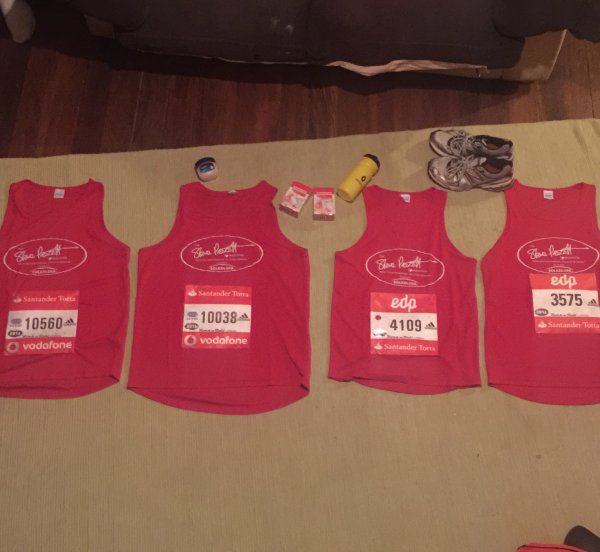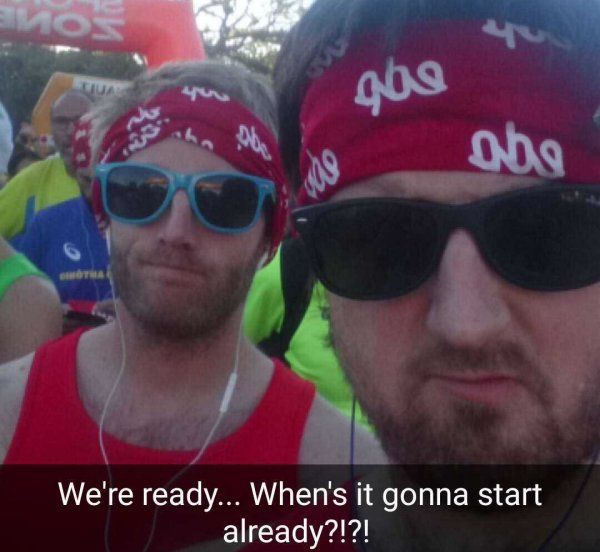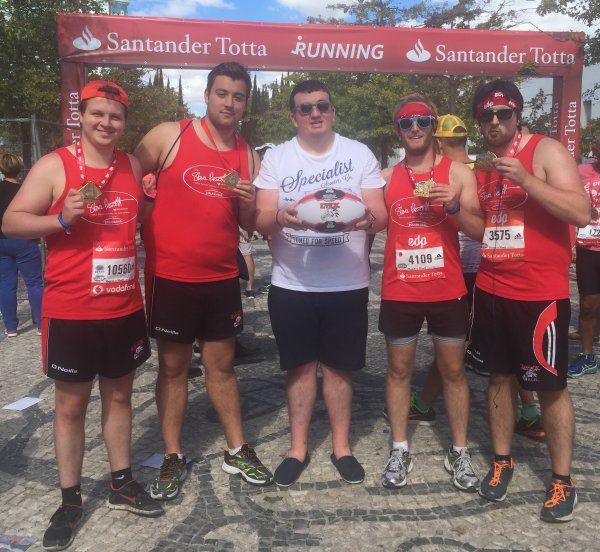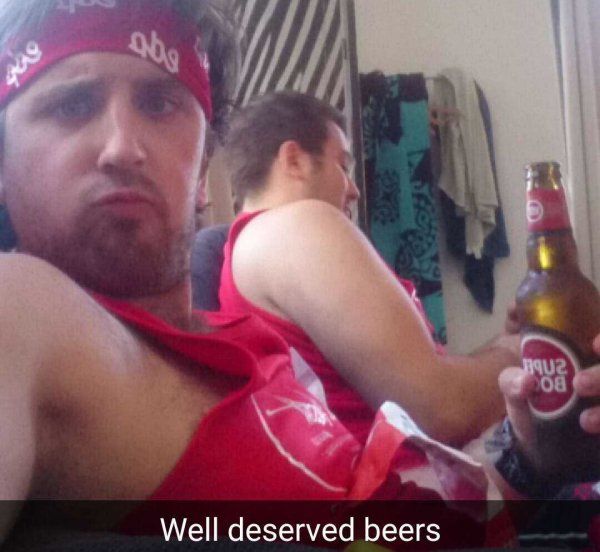 Team biographies.
James Russell - 23
A hooker who is more at home in Pound Bakery than pounding the pavements. James says 'unfortunately it's been over a year since I last played rugby league, and training has shown me how far my fitness has declined. I've come a long way over the past few months and I'll definitely be stepping it up a notch or two over the next few weeks. Having had my fair share of injuries in the past few years, I know how devastating they can be. Fortunately I've been able to recover fully from them, but it's my turn to give support to my fellow players of the greatest game on earth."
Ben Housson
A southerner who discovered the gift of Rugby league at a Northern university and never looked back. A winger turned second row turned centre. Hugely versatile and a self proclaimed athlete. Convinced fitness levels are equal to that of a mountain goat if not better. Training as expected has been impressive. However overtraining has caused injury to both his foot and knee. Yet this will not stop this inspiration from striving to reach his goals. Looking to give back to charities that have given him so much. This will be the first of many events to help raise awareness for such great charities that make a real difference."
Sam Hudson
A number 6 in a prop's body. Definitely was not in shape to run to the shops never mind a half marathon before undertaking this challenge.  Sam says "Training has gone well, spurred on by the great causes the charity supports, with cancer charities particularly dear having lost my grandmother to the disease. I had the privilege of meeting Steve himself and it is an honour to carry on his legacy. I look forward to giving my all in Lisbon and in the future to help this great foundation."
Pete Gatenby
A northern rugby league player flying the flag in the Midlands. Always one for a challenge, running a marathon seemed like a great idea at first. But as the days roll by and lack of training persists 26 miles is looking harder and harder by the day. "The SPF is a great cause and having cancer affect my family in the last 18 months, the Christie is especially close to my heart."
Joe "Coach" Weir
Joe was the original member of the team, the first to sign up for the marathon and encouraging the rest of us to get involved.  Unfortunately an existing heart condition means that he is unable to partake, but has graciously taken up the role of coach, flying out to Lisbon with the team and to support them all the way around the course. Joe is a great ambassador to the sport of rugby league and a long term supporter of the Steve Prescott Foundation.
The Rock 'n' Roll Marathon Series makes running fun according to their website. It states that what started as a simple idea in 1998 – a marathon with bands along the course celebrating each participant – it soon transformed the running landscape igniting the second running boom. While entertainment and the energy of a festival weekend define the Rock 'n' Roll Marathon series experience, runners have raised more than $310 million for participating charities.
The SPF Trustees would like to thank the Marathon Marras for their fantastic support of the SPF. It's always a pleasure to know that Precky continues to inspire other people. Good luck in Lisbon and enjoy the whole Rock'n' Roll experience.
Donations can be made at:- www.justgiving.com/teams/MarathonMarras